'Emotional' family helps bereaved parents with lodge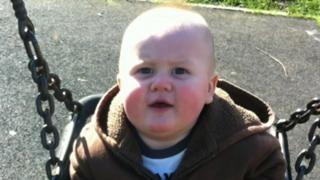 The parents of a 10-month-old boy who choked to death have spent three "emotional" years raising money for a lodge for bereaved families.
Bodie Hodges, from Leicester, died in 2012 and his organs were donated to save the lives of four children.
His father, Nick, said the project to build a lodge on Tallington Lakes in Lincolnshire had been "fantastic" but "a lot of hard work ".
"We just want to give people a hand back up on their feet."
He added: "To have a product that we feel Bodie would be very proud of is a really great feeling."
The Bodie Hodges Foundation spent £195,000 on the lodge for bereaved families, which has three bedrooms with full disabled access.
"We stayed at a holiday home after Bodie's death and it made a big difference to our grief journey," Mr Hodges said.
The foundation will work with hospices and hospitals to find families who would qualify to stay at the lodge free for a week.
"We hope that during that time together they can think things through and spend time as a family and help one another through the difficult times they have got ahead.
The centre will be opened on Sunday by the intensive care nurses who looked after Bodie while he was in Leicester Royal Infirmary.