M1 closure: Police probe link to earlier bridge crash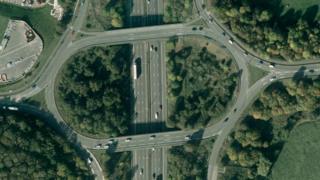 A section of the M1 was closed for nine hours after a man was hit by a lorry.
The man died at the scene at about 05:20 BST. Police are investigating any link to a crash minutes earlier on a bridge over the motorway.
Both incidents were close to junction 23 in Leicestershire with the first crash involving one vehicle.
The northbound motorway and the nearby A512 were reopened by 14:30. Vehicles trapped in the tailbacks were taken off the motorway by police.
The Highways Agency said there was still congestion in the area but this should ease by 15:30.
More on this story and other news in Leicestershire