Leicester City players change their car colours from team blue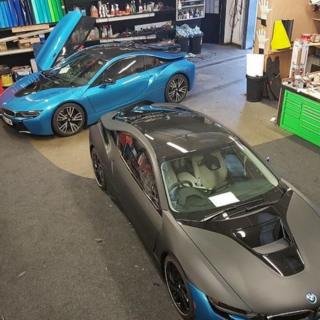 A decision by Leicester City players to change the colour of supercars gifted to them by the club from the team blue has raised eyebrows on social media.
Foxes owner Vichai Srivaddhanaprabha bought 19 BMW i8s - costing about £100,000 each - for all the players who helped the club win the Premier League.
At least seven players have ordered vinyl wraps to change the colour.
There were rumours that the stars were fed up at losing their vehicle in the club car park.
Former Premier League striker Marlon Harewood runs the Nottingham garage where the players' hybrid sports cars were modified.
The former Nottingham Forest, West Ham and Aston Villa player said: "The reason they have got them changed is because there were 19 cars all exactly the same.
"They wanted to personalise their own vehicle. I've heard rumours they couldn't find their car in the car park but you don't forget your own car."
On Facebook, the news received a mixed reaction.
Roy Foulkes wrote: "More money than sense. Keep the car blue donate the cost to the first football team you ever played."
John Cooper said: "Probably that 15 identical cars in the car park was too confusing for them"
Jane Smith said: "Can I have a free one if I promise not to change the colour?"
Kim Stevenson said: "Butchers. Why were they blue ? Because that's our clubs colours. Would have been better getting thier own plates fitted at a fraction of the cost too."
A vinyl wrap on a car is like a large sticker and is a cheaper alternative to re-spraying the vehicle and should not damage the original paintwork.
The i8 is BMW's second supercar and is a petrol-electric hybrid which costs from £104,485.