East Midlands Airport to close for runway resurfacing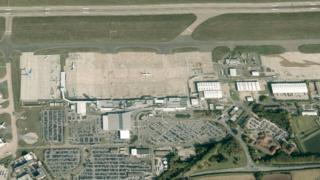 East Midlands Airport is set to close from Saturday evening to Monday evening for seven consecutive weeks.
The closure is to allow the runway, which is served by airlines including Ryanair, Flybe and Jet2, to be resurfaced.
LED lighting will also be added to the runway when the work is carried out between 5 November and 19 December.
Managing director Andy Cliffe said they planned the works at a time when the airport was least busy.
He said: "After an in-depth consultation with our airlines and cargo operators, we came to the decision that completing the project in this way was the best way to avoid major disruption in the lead-up to Christmas.
"The timing for us is crucial and we had to look to do this in the winter season, when we naturally aren't as busy."
During the works, about 50,000 tonnes of material will be laid on the 2.9km (1.8 mile) runway and 1,200 lights will be replaced with LEDs.
The closures will begin at 20:00 GMT on each Saturday and end at 20:00 on each Monday, except for the final weekend, when it will finish at 13:00.
The work is expected to be completed on 19 December in time for Christmas.
---
East Midlands Airport
The airport started life as the Castle Donington Airfield - a decommissioned RAF base
In 1965, its first year, 114,00 passengers passed through the airport
The runway was extended in 1970 to accommodate bigger aircraft but the first Boeing 757 did not arrive until 1982
About 4m people now use the airport flying to destinations including Orlando
The airport is the UK's number one for pure freight, managing 300,000 tonnes a year
---