'Freedom of Leicester' for sealed in lorry text boy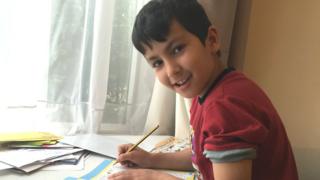 A campaign has been launched to honour a seven-year-old boy from Afghanistan who was rescued from a sealed lorry after texting he was suffocating.
Ahmed, along with his brother, had stowed away in the vehicle bound for the UK from a Calais migrant camp - known as the Jungle - in April.
The 14 migrants were rescued by police from a container at the Leicester Forest East services on the M1.
Now a group is calling for Ahmed to get the freedom of the city of Leicester.
Ambrose Musiyiwa, from Civic Leicester, who has set up a petition for the move, said Ahmed "saved the lives of 15 people".
"What he did was remarkable," Mr Musiyiwa said.
"Despite not having any English language education, he was able to send a text message and that message set in motion the series of events that saved those lives.
"Ahmed should be commended about how he kept his head and in a high pressure situation - it was truly remarkable."
The petition needs 1,500 signatures for it to be discussed at a Leicester City Council meeting.
The boy was carrying a mobile phone given to him by Help Refugees, a charity working in the northern France camps.
He sent the text to Liz Clegg, one of the charity's team who works in the Jungle.
She said: "Ahmad has survived a terrible journey and I doubt many children his age could have coped so well.
"Ahmad continues to be a kind and generous little boy, he expresses his gratitude to all that help him and in my mind is a true little hero."
Ahmed's former teacher Georgina Klein said: "You can see that he really cares about others and is a very caring, brave boy.
"It is really important to raise the awareness of the sort of suffering he has been through."
Amhed and his brother, who now live in Peterborough, are applying for asylum status to stay in the UK.