Man charged over punching moving car in Leicester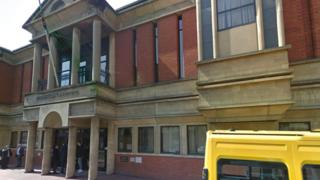 A man has been charged after footage emerged of someone jumping on a moving car and punching the windscreen .
Footage showed a man damaging cars near St Margaret's Way junction in Leicester during rush hour traffic on Thursday.
Michael McCabe, of no fixed address, was due to appear before Leicester Magistrates' Court on Saturday.
He is charged with racially aggravated criminal damage, three counts of damage to motor vehicles and resisting arrest.