Rutland Water Osprey Project marks 20 years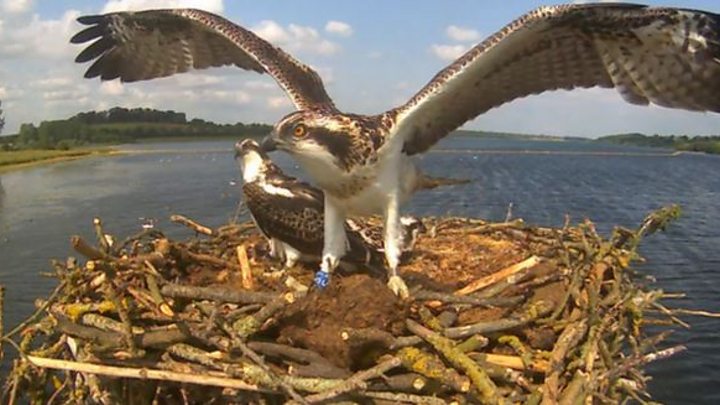 A wildlife trust is celebrating 20 years since it started a project to bring ospreys back to England after a 150 year absence.
Scottish chicks were introduced to Rutland Water Nature Reserve in 1996 and in 2001 a first pair bred.
Simon Bentley, director of Leicestershire Wildlife Trust, said the fish-eating hawk's breeding prospects were grim before action was taken.
He added that 117 osprey chicks have now fledged at the site.
The Rutland Osprey Project observes the "extremely rare" birds from their arrival in spring through to their autumn migration to Africa.
The public get a unique look at the birds of prey through hides near the lakes and a live webcam, but faith 20-years-ago was low.
"Things were very bleak in England, ospreys were wiped out but 1996 offered a glimmer of hope," Mr Bentley said.
Staff at Rutland Water had noticed that ospreys were stopping off at the reserve during their migration.
As a consequence, 64 chicks were brought to the reserve under special licence and hand reared.
It was hoped that after their winter in Africa they would return to Rutland to eventually breed.
Due to the unique ecology of the birds, feeding on live fish, the project was dubbed "experimental" but after success in 2001, Mr Bentley said breeding has gone from "strength to strength".
The trust director said: "We hope the colony will continue and will flourish and spread to other areas."
Some of Rutland's ospreys, which have been tagged, have bred in Wales and work has started to encourage the birds to breed at other sites in the Midlands.
Mr Bentley hopes success at Rutland can now be "mirrored elsewhere".
Rutland ospreys
Rutland Water is home to the first ospreys to breed in England for 150 years
Young chicks were translocated from Scotland to the reservoir in the 1990s
Some of the birds have been tracked using satellites, charting their remarkable 3,000-mile (4,500km) journey
An adult osprey weighs about 3.3lbs (1.5kg) and has a wingspan of about 5.5ft (1.7m).
Source: The Rutland Osprey Project