Leicester City Premier League win celebrated in street art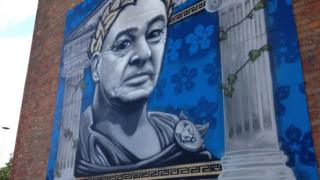 Six murals have been commissioned to "continue the celebration" of Leicester City's Premier League title triumph.
Each design will welcome visitors to the city by capturing a different aspect of the Foxes' unexpected win.
City Mayor Sir Peter Soulsby said he hoped these new pieces of street art would allow the party to go on.
Fans from around the world had flocked to see a separate mural that appeared as City closed in on the title.
Leicester City defied odds of 5,000/1 to claim their first title in their 132-year history, in May.
Half of the commissioned murals have been completed, with another three on their way.
The mayor said: "After the season, after the party, we wanted to continue the celebration of our brilliant football team.
"How better than to do it out in the street so that everybody can share it?"
---
Leicester's run to the title
August 2015 - Leicester start the season as one of the favourites to get relegated
December 2015 - A 3-2 win over Everton at Goodison Park ensures the Foxes spend Christmas Day at the top of the Premier League
February 2016 - The Foxes stun title rivals Manchester City with a 3-1 win at the Etihad Stadium to go five points clear
February 2016 - The Blues lose to rivals Arsenal but it would be their last defeat
May 2016 - Leicester are confirmed as champions after Tottenham's 2-2 draw with Chelsea at Stamford Bridge
---
Leigh Drummond, one of the artists involved in the project, said he hoped once they were completed, the murals would help the city be known for its artistic talents.
"I think Leicester has a flourishing street art scene, it may not have been recognised yet, but I think it will be," he told BBC East Midlands Today.
"It will put Leicester on the map with regards street art."
The completed murals have been painted on to walls in St Nicholas Circle, Burnmoor Street and Tudor Road.
Details are still being finalised on the designs and locations for the final three murals.