Leicester Muslim Eid festival banners vandalised with racist graffiti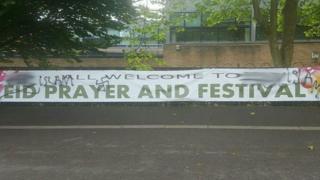 Two Eid festival banners have been vandalised with racist graffiti.
The banners, which were on railings at Leicester's Victoria Park, were defaced by vandals who sprayed a swastika symbol and an anti-Islam comment.
One organiser of the Muslim event said there is no way to know if it was linked to the Brexit vote, but added it "does not bother us".
The local MP for the area said it was "disgusting". Police said they were investigating the religious hate crime.
The banners, which have now been removed, were welcoming people to Eid prayer and festival in July to mark the end of the holy month of Ramadan.
Leicestershire Police said: "The incident is being treated as religious hate crime and enquiries are being carried out locally to identify those responsible for the damage."
'Offensive and racist'
Organiser Abu Salam said: "The impression I have is that this vandalism might be related to Britain leaving the EU, but there is no way to be certain.
"We have been running this festival in Victoria Park for many years and have never had any incident of vandalism or racial abuse.
"This does not bother us. Eid is a festival of peace and harmony."
Leicester South MP Jon Ashworth wrote on Facebook: "Yet another disgusting racist incident today in Leicester.
"I've spoken to our police and crime commissioner and am in constant touch with community leaders.
"Yesterday [Tuesday] I signed a letter... condemning division, xenophobia and racism, reiterating our recognition that we have more in common than what divides us."
In a statement, Leicester City Council, which runs the park, said: "This offensive and racist act of vandalism is repulsive.
"There is no place for this behaviour in Leicester or anywhere else."