M1 fatal crash driver 'thought lorry was entering her lane'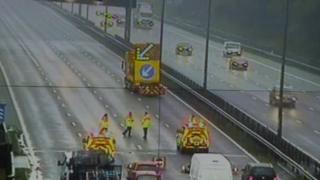 A woman who lost control of her car on a motorway causing a fatal eight-car pile-up told a court she thought a lorry was coming into her lane.
Christy George, 38, of Nottingham, hit a lorry which crashed into the central reservation between junctions 21a and 22 of the M1 in Leicestershire.
Leicester Crown Court has heard she deleted a record of phone calls made during her journey, in November 2014.
Ms George, a nurse, denies a charge of causing death by dangerous driving.
Murray Simpson, from London, died in the crash, while another driver - Liese Bowers-Straw - broke her neck in two places and suffered brain and head injuries.
'Perceived things wrongly'
The court heard earlier Ms George's car struck a lorry, which crashed through to the northbound carriageway and spilled its load of beer barrels, forcing the closure of the motorway for 18 hours.
Ms George, who was driving to a Coventry hospital to work a night shift, said she had moved to the outside lane to overtake the lorry when she thought it was coming into her lane, the jury as heard.
The defendant then over-steered as she turned to the right and lost control of the car, the court was told.
"I perceived things wrongly," she said.
The court heard the calls Ms George made before the crash involved unlocking and pressing icons on her iPhone to connect the calls, but she said she spoke and listened through a hands-free speaker system.
She said the use of her phone was a "one-off incident" which does not represent her usual driving habits.
"I did it, I made a mistake, I accept that," she said.
Graham Huston, prosecuting, said there must have been a reason why Ms George "calmly, cynically and callously" deleted a record of the calls.
"I didn't think of the consequences, it was just a moment's panic," she said.
Ms George also denies causing serious injury by dangerous driving and perverting the course of justice.
The trial continues.