Police officer appears in court accused of burglary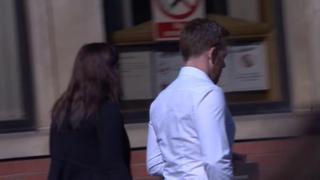 A police officer has appeared in court charged with burglary after being accused of taking £60 and a set of car keys from a garage.
PC Neville Thompson allegedly entered the premises of Auto Milligas in Parker Drive, Leicester, on 25 March and committed the offence.
The 36-year-old, from Syston, pleaded not guilty when he appeared at Leicester Magistrates' Court.
He has been suspended from his duties with Leicestershire Police.
The Crown Prosecution Service is seeking to have the case transferred to Nottingham because Mr Thompson normally works as a police officer in Leicestershire.
A date for the next hearing has yet to be set, but Mr Thompson has been granted conditional bail until then.