Oakham Castle in Rutland reopens after £2m restoration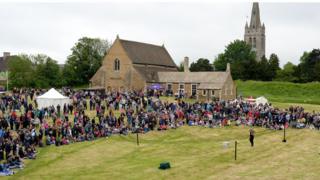 A 12th Century castle has reopened after a £2.1m restoration project.
Oakham Castle, in Rutland, has been closed since September to allow for the restoration of the Great Hall and cleaning of the 230 commemorative horseshoes inside.
The ancient defensive walls have also been revealed for the first time in 150 years.
It is one of the oldest surviving secular buildings in the country.
Oakham Castle, which dates back to 1180, was built as a manor house and was later heavily fortified with walls, a moat and a drawbridge but by the 16th Century most of the castle was a ruin.
Other works that have taken place include improvements to the castle's heating and electrical system, new footpaths and a new toilet block.
For the past 550 years, monarchs and peers have traditionally given a decorative horseshoe to the town on their first visit to Rutland.
The Earl of Gainsborough, who lives in the county, will be first person to undertake the honour later since the Duchess of Cornwall in 2014.
Officials are hoping that castle, which sees 30,000 visitors every 12 months, can attract 15,000 more per year.
Robert Clayton, head of culture and registration at Rutland County Council, said the castle had been in a "state of decay" for a number of years.
"It's the oldest aisled hall in the country and the oldest continually operated court in the country," he said.
"The walls have been covered up with ivy and had trees growing out of them for hundreds of years and we are still in the process of removing that. That's going to take a bit longer."
Court hearings are still held at the castle every two years - with several people sentenced there last year. It is also used for weddings.
The castle reopening is being marked with a series of activities, including Norman coin striking, falconry, archery and weaving.