Jeremy Vine takes Leicester fans for congratulatory lunch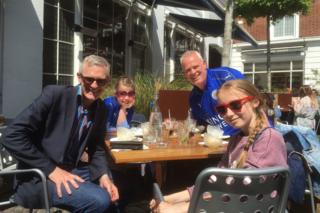 Broadcaster Jeremy Vine took a Leicester City fan and his daughter for a pre-match lunch to congratulate them on their team's Premier League win.
Vine, a Chelsea supporter, declared his "love" for the Foxes in February after realising his team could no longer win.
He takes his own daughter to all home games and asked for a Leicester dad and daughter to join them before the Foxes' last game of the season at Chelsea.
Colin and Charlotte Hood were picked after the appeal went on Facebook.
Writing on his website, Vine said his daughter Martha, 12, and Charlotte, 8, "seemed to get on really well — they kept going off to look in clothes shops".
"All in all it's been an incredible day - heart-warming that Chelsea fans felt so good about Leicester's league victory," he wrote.
"We have our own rebuilding job to do now! Martha and I had a great time speaking to Colin and Charlotte, and a memorable lunch in the sunshine… and yes, we have promised to support Leicester in the Champions League next season. For as long as our own team aren't present!"
Mr Hood said: "The whole day was superb for both me and Charlotte, we got on so well with Jeremy Vine and his daughter Martha, the lunchtime of two and half hours just flew by and we never stopped talking.
"Jeremy was very complimentary about Leicester and our season."
He added: "As we sat amongst the Chelsea fans in our Leicester City shirts, all those around us wanted to congratulate us and shake us by the hand, they were genuinely pleased that we had won the Premier League, as they couldn't, and ahead of Spurs.
"This experience was like Leicester's season - beyond belief, reality and something we will never forget."