Million-brick 'prayer wall' in Leicestershire gets funds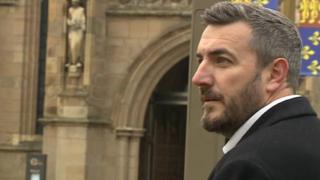 A campaign to build a national landmark representing one million answered prayers has hit its initial fundraising target of £45,000.
"The Wall" is planned to be the size of 62 semi-detached houses and is to be seen "on a motorway in Leicestershire".
Now an anonymous donor has matched the money raised, bringing the total up to £90,000. The wall is estimated to cost £6.2m.
Former football club chaplain Richard Gamble began the campaign in January.
The £45,000, for the initial design phase of the project, was raised in 40 days.
Mr Gamble, who previously explained the idea is for one million people to buy a brick at £10 each, said raising the £45,000 in such quick time was "an incredible miracle".
"It's been an amazing journey," he said. "I think on 36 days, most people thought we weren't going to do it, but it was just an incredible miracle frankly.
"Lots of people were praying and then out of nowhere, we had 107 people pledge...and now we are up and running, The Wall is going to happen."
Mr Gamble, who used to work at Leicester City, wants the monument - with a Christian message - to be as iconic as the Angel of the North.
He said he is meeting with the Royal Institute of British Architecture (RIBA) next week to find out what "The Wall" is going to look like.
Mr Gamble and RIBA are now also set to launch a global, architectural competition to help create the landmark.