Leicester City: Bet bought as joke nets woman £50,000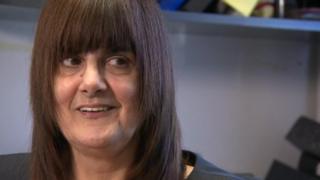 A woman has won £50,000 after her boss placed a £10 bet on Leicester City winning the Premier League as a joke.
At the start of the season, bookies gave odds of 5,000/1 for the Foxes to win the league.
Fan Mandy Clarke said her boss, a Nottingham Forest supporter, placed the bet as a gift "to take the mickey".
She was offered cash-outs but an inspirational poster at the hospital in Oadby where she works convinced her to keep the faith, she said.
"He bought it as a joke because he was taking the mickey out of my team because he's a bit of a closet Nottingham Forest fan," Ms Clarke, a Leicester City season ticket holder of over 20 years, said.
"It was never going to happen."
Leicester season ticket holder Ms Clarke said she pinned it next to a poster that read, "Believe and all things are possible".
"I was having so many meltdowns about the cash-outs, I felt as if I'd be a traitor. I felt you have to believe, as Leicester City fans - you have to believe you can do it," she said.
"I just couldn't move it to take it anywhere."
Asked which is better, the money or her team winning the Premier League against the odds, she said: "The £50,000 is fabulous, I can't take it in.
"But the icing on the cake is Leicester City winning because that will live on and on and on."
Other fans are doubly celebrating, including Keval Nakesheree, from Gloucestershire, who placed an each way bet on Leicester winning the title at 5000/1, netting himself £33,000.