Samworth Brothers staff row over pay plans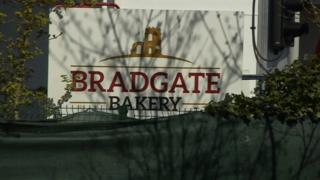 A row has broken out at a food manufacturer over plans to increase pay but cut overtime payments and bonuses.
Samworth Brothers has nine sites in Leicestershire, including Bradgate Bakery in Melton Mowbray, and employs about 5,000 workers.
The Bakers Food and Allied Workers Union said the plans were "unacceptable".
The company defended the move and said most staff had responded to the proposals "positively".
The union is holding a meeting for concerned members of staff later.
Letters to staff titled "project fair reward" revealed plans to slash bonuses, higher Sunday pay, bank holiday pay and overtime for its staff.
Kumaran Bose, a worker at Bradgate Bakery, said if he did not agree to the new pay proposals he would lose his job.
He said: "You're not going to be better off with the new proposal because at the end of the day people aren't going to get more money out of it."
'Staff benefiting'
Regional union officer George Atwall said: "For our members this is unacceptable.
"There's a strong voice, we're getting a lot of people making inquiries to join a trade union to have a voice at Samworth."
In a statement, the firm said it was working with staff to find a solution.
It added: "Most staff have responded positively as they are benefiting from a much higher standard rate of pay over all hours worked, which is going up by 15% this year and 28% over the next three years.
"We are investing significant additional sums in our pay bill to make this happen."