Leicester's Jamie Vardy condemns 'vile' daughter threats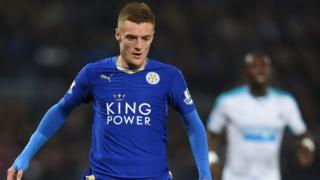 Police said they are investigating reports of sexual threats directed at Leicester City striker Jamie Vardy's one-year-old daughter.
The tweets were made after a picture of the forward's child, Sofia, was posted on his Twitter page.
Vardy, who has scored 19 league goals for the Premier League leaders this season, called the posts "shocking and vile".
Leicestershire Police said they are liaising with the club over the tweets.
Updates on this story and more from Leicestershire
A number of tweeters reacted angrily to the threats after Vardy took screenshots of the tweets and, on Sunday, posted them to his 240,000 followers.
The 29-year-old's fiancée, Rebekah Nicholson, who originally tweeted the shots of her daughter wearing a Foxes shirt, said the social media users in question needed "locking up".
Former Leicester and Blackpool striker Gary Taylor-Fletcher called those responsible "disgraceful and sick", while another tweeter labelled them "pigs".
A spokesman for Leicestershire Police said: "Leicestershire Police is investigating a report of a malicious communication being sent via social media.
"A report was made today [4 April] of an abusive message being received yesterday evening [3 April] by a woman on Twitter. Enquiries remain ongoing."
A Leicester City Football Club spokesman said: "We have offered our full support to Jamie and his family in dealing with this shocking abuse and referred the matter to the police."