'£20m made' since Richard III reburial in Leicester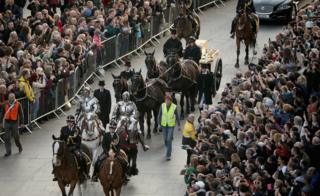 About £20m has been generated by visitors to Leicester since the re-interment of Richard III a year ago, according to officials.
The English king's skeleton was found beneath a car park in Leicester in 2012, following an archaeological dig.
In March last year, thousands lined the cortege route as his remains were escorted to Leicester Cathedral.
City centre director Sarah Harrison said the money was a result of visits to the cathedral and visitor centre.
She said: "There's a higher number of people coming from overseas and outside the region, which has obviously seen an increased number of nights [people are] staying in hotels.
"We've had the most amazing few years, we've got to go with the momentum and make sure we don't lose it."
A number of events have been held in the city marking the first anniversary of the re-interment.
The King Richard III visitor centre displayed a special portrait of King Richard III which was created from thousands of pictures taken by members of the public.
Martin Traynor, chairman of the centre, said about 89,000 people had visited the museum since the reburial.
He said of the mosaic: "It's a wonderful contribution from the people in Leicester and Leicestershire.
"Twelve months ago was a huge day in the history of Leicester - the people were engaged with the re-interment and we are very grateful they were able to share their pictures."