Steven McKinnon death: Three men guilty over fatal pub attack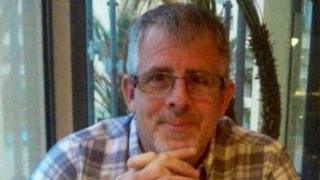 Three attackers who fatally assaulted a man who stepped in to defend his stepson during a row outside a pub have been found guilty of manslaughter.
Steven McKinnon, 44, died in hospital two days after he and his stepson were set upon at the Durham Ox pub in Leicester last June, a court heard.
Eugene Bell, 29, Phillip Merry, 28, and Gurdev Sangha, 24, continued to punch and kick Mr McKinnon after knocking him to the ground, police said.
They were cleared of murder.
Merry and Sangha were also found guilty of assaulting Cortney Hughes-Smith, Mr McKinnon's stepson.
A fourth man, Ross Lowndes, 27, was cleared of all charges.
'Ultimate price'
Police said Mr McKinnon, of Uppingham Road, Leicester, had tried to "calm" the situation after his stepson was attacked.
"Steve was punched and knocked to the ground where the three men continued to hit and kick him as he tried to defend himself," Det Ch Insp Natalee Wignall said.
"He managed to get back on his feet but was punched again, resulting in him falling and hitting his head. Sadly he never regained consciousness."
"Steve tried to keep the peace that night and ended up paying the ultimate price."
Mr McKinnon, who had been attending a leaving party with family and friends, suffered a fractured skull and bleeding around the brain.
Mr McKinnon's wife, Clare, paid tribute to her "caring and loving" husband.
"We are living in a nightmare and continue to ask the question, 'why him?'
"The image of Steve that day in hospital will haunt us forever and the pain we share will never go away."
Bell, of Helmsley Road, Leicester; Merry, of Pinewood Avenue, Leicester; and Sangha, of Overdale Avenue, Leicester; will be sentenced at Nottingham Crown Court on Tuesday.