Leicester youth football match called off after violence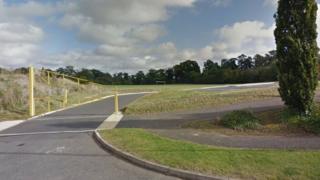 A junior football match had to be abandoned after players, supporters and officials clashed on the pitch.
Trouble flared during a game between under-15 sides Leicester Nirvana FC and Thurmaston Magpies JFC at Hamilton Park in Leicester on Sunday.
Two men were taken to hospital with stud marks on their heads following the violence, according to the Leicester Mercury.
The FA and police have launched an inquiry into the incident.
'Laid into'
The referee - who the newspaper said was "fly-kicked in the ribs and put on the floor" - had to call a halt to the Leicester & District Sunday Juniors League fixture at about 11:45 GMT when away side Thurmaston were reportedly winning 4-0.
Thurmaston chairman and team manager James Harley said his players and supporters were "laid into", but a statement given to the newspaper by Leicester Nirvana said 14 to 15-year-old boys from the club were attacked by two middle-aged adults.
A Leicestershire Police spokesman said no-one has yet been arrested in connection with the violence.
"Officers are investigating a report of an affray," the spokesman added.
"It happened at about 11.45 GMT and involved a number of people. It is unclear at this stage what injuries were sustained.
"Inquiries are in their early stages."
The FA said it will not comment on the detail of the allegations to avoid prejudicing its inquiry.