Leicester GP closes surgery: 'Small practices are unviable'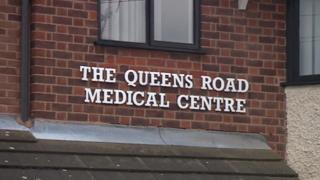 A GP surgery that serves 2,500 patients is being forced to close because of workload and funding pressures, according to the doctor who runs it.
The Queen's Road Medical Centre in Leicester, which has been run by the same family since the 1920s, will close at the end of March.
Dr Jonathan Lenten said: "Small practices are becoming unviable."
An NHS spokesman said all GP practices received "the same level of funding for similar patients".
'Single-handers'
Patients at the practice in Leicester have been asked to find another GP, but three surgeries in the area have closed in the past year, protesters said.
A Facebook campaign and an online petition have been organised to try to save the surgery.
Leicester South MP Jon Ashworth (Labour) said: "We need some transitional arrangements to support those areas which are losing GPs perhaps unexpectedly.
"I have asked NHS bosses here for a meeting and I've asked (Health Secretary) Jeremy Hunt for more support for Leicester."
He said that the national funding formula for GP practices "is clearly adversely affecting the financial stability of single-hander practitioners".
A spokesman for Leicester City Clinical Commissioning Group, which is responsible for local GP surgeries, said patients were asked to register elsewhere because the practice was "no longer viable".
There were 23 practices within 1.2 miles (km) of Queens Road Medical Centre to choose from, the spokesman added.
Dr Lenten said: "The workload has reached an unsustainable level and access to funding is becoming more and more difficult for practices which are set up like ours in the traditional way.
"I have not taken this decision lightly - the practice is far more than a job to me - it is my life."