Leicester Road Football Club defends no access to pitches gate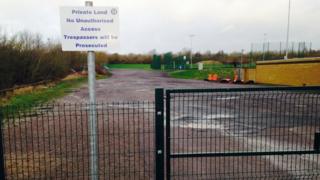 A football club has defended its position to install a gate to block the only access to training pitches used by junior clubs.
Hinckley-based Leicester Road Football Club, which owns the access road, said the gate was erected to stop vandalism.
3G Hinckley Ltd, which owns the all-weather third generation (3G) pitches, said it was "devastated" children were suffering as a result.
The club said the site was bought knowing there was "no right of access".
Updates on this story and updates from Leicestershire
The 3G training pitches, in Leicester Road, were sold to the company after Hinckley United Football Club (HUFC) went into administration in 2013.
LRFC brought the stadium, previously HUFC's home ground, including the only access road to the 3G pitches.
Steve Jelfs, part owner of 3G Hinckley Ltd, said: "We have Hinckley AFC juniors playing on there, AFC Barwell juniors and Leicester City coming over with some of their juniors players along with others.
"They've all had to either stop playing or find alternative arrangements."
Fellow pitch owner Joy Jelfs said: "We bought the 3G pitch knowing it was landlocked, but we never thought the directors would go to such desperate attempts by putting up a fence to prevent our access."
'Assets vandalised'
The company added it would look at creating another access to the site.
In a statement, LRFC said: "The land in question was purchased by the owners - 3G Hinckley Ltd - knowing full well they were landlocked. They chose to hire it out to third parties knowing they had no right of access.
"We did invite them to propose commercial terms to gain access, but rejected their derisory offer.
"Despite this they continued to use the road, and our assets were vandalised several times.
"As a result of this, we installed a gate and fences on the land."