Smaller Leicestershire Snibston mining museum hopes dashed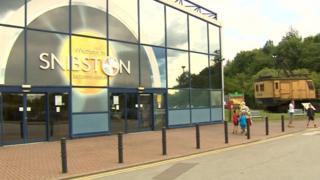 Any hopes of re-opening a smaller version of a closed mining museum have gone, after the local authority said it would not be able to afford to run it.
Snibston Discovery Park, in Coalville, Leicestershire, closed last summer as part of plans to save money, despite a long campaign to save it.
The Conservative-led county council said it could not afford the new plan as it had to save £78m by 2020.
Friends of Snibston said the authority needed to preserve the "monument".
Live updates and more from Leicestershire
The museum opened 22 years ago and featured activities based around science and industry, as well as the area's mining heritage.
Councillor Byron Rhodes, the county council's deputy leader, said: "We had intended to establish a mining museum on the site, that would have cost us £400,000-a-year to run.
"Now, with the latest figures from the government, there isn't the money to do that.
"If someone else wanted to run it then we'd consider it, but there's no one coming forward at the moment."
In response, Stuart Warburton, chairman of the campaign group, said: "An offer was put to the county council 18 months ago and was rejected."
He hopes the pithead at Snibston colliery will be maintained.
"Our concern is for the longevity of the ancient monument, which is on a par with Stonehenge," Mr Warburton said.
The authority said it hoped to "explore ways of providing some public access".
It added exhibits were in storage and it was "working with organisations about the loan of artefacts to display".
The country park and Century Theatre will remain open.