Teenager seriously ill after Wigston police chase crash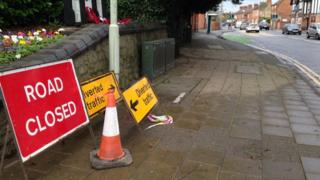 A teenager was seriously injured when a suspected stolen car crashed while being pursued by police.
The car failed to stop for officers in Wigston early on Tuesday, and soon afterwards hit railings on Bushloe End.
Two of the car's occupants ran away, and a 20-year-old was arrested nearby on suspicion of the car's theft.
Two males, aged 17 and 21, who were also in the car, were taken to hospital, where the 17-year-old is in a life-threatening condition.
Leicestershire Police said the Independent Police Complaint Commission had been notified of the pursuit and crash, which happened at 01:51 GMT.