Leicestershire plan for million-brick prayer wall monument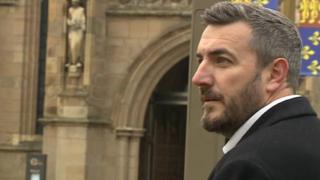 A former football club chaplain has started a campaign to build a national landmark representing one million answered prayers, made of bricks.
Richard Gamble, who worked at Leicester City, said the "The Wall" would be the size of 62 semi-detached houses and be as iconic as the Angel of the North.
The idea is for one million people to buy a brick at £10 each.
The Royal Institute of British Architecture (RIBA) hopes to open a design competition in the summer.
Mr Gamble said he wanted the monument, with a Christian message, to be seen by thousands of passing drivers on a "motorway in Leicestershire".
Live updates and more from Leicestershire
"I'm going to get Christians from all over the UK to buy a brick and tell us what prayer God has answered for them," said Mr Gamble, who now works in international sports chaplaincy.
"The idea is that people driving pass this iconic structure will be able to see that Jesus has answered a million prayers.
"In terms of the Angel of the North, tens of thousands of people drive past that everyday, so we just want it to be a piece of art that's going to provoke conversation about prayer."
Mr Gamble added RIBA was hoping to find a sculptor "with the right design that will be the most striking... and will make this country proud".
A RIBA spokesperson said: "We are currently in discussion with Richard Gamble regarding the exciting prospect of holding an architectural competition to create the wall of prayer.
"We hope to launch the competition summer 2016."
---
Angel of the North
The 200-tonne steel structure was designed by Antony Gormley
It is believed to be the largest angel sculpture in the world, standing 20m (66ft) tall, with wings measuring 54m (177ft) across
The artwork was completed in 1998 and cost £800,000
It is seen by more than 150,000 visitors a year and more than 90,000 drivers every day on the A1 in Gateshead
One of the functions of the angel is "to be a focus for our hopes and fears"
---