Leicester homeless skip couple thank town for help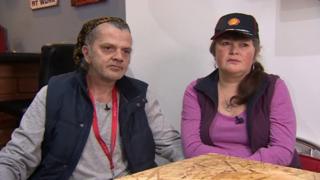 A couple who spent two nights of the festive season sleeping in a skip have thanked a town community for its help in getting them off the streets.
Staff at a pet shop in Syston, Leicestershire, found Paul Deacon and Sheena Ruddy in the store bins.
They were so moved by their plight they bought them a tent and some food.
After sleeping in the town park, other residents helped get them to an adult care centre in Loughborough and they have now been found a bed.
Mr Deacon, a former charity worker, thanked everyone who had helped.
"There's a guardian angel out there," he said. "Strangers have been so kind."
The couple were evicted from their council flat in Leicester over rent arrears in June.
They spent months "sofa-surfing" before finding themselves on the streets during the festive period.
To stay dry, the pair slept in a skip behind a pet shop.
Mr Deacon, 49, said the couple went to the Natural World pet shop in Syston, Leicester, as they knew of a canopy behind the store.
After being told they could not sleep there during opening hours, they sought shelter in the nearby skips.
Ms Ruddy, 50, described the experience as "scary" and "uncomfortable".
"It was that or a cold, wet doorstep," she said.
Upon discovering the couple's sleeping arrangement, pet shop staff gave them a tent, food and a flask.
Manager Anna Mowbray said: "Quite a few of us decided we wanted to do something for them.
"It is sad that they were in that position."
The pair took the tent to a nearby park over Christmas, but their belongings became damp in the wet weather.
Following a stint at a hostel in Loughborough, agencies were able to move the couple into a hotel in Nottingham.