'Prank' blamed for Barleythorpe speed limit sign switch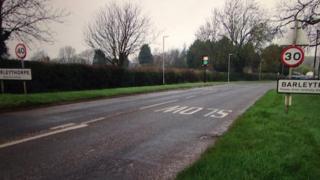 Pranksters have been blamed for "switching" two warning signs at the entrance to a village - leaving them displaying different speed limits.
Motorists approaching Barleythorpe, near Oakham, Leicestershire, are met with a 30mph warning on one side of the road, and 40mph on the other.
It is thought the signs could have been switched over the new year.
Rutland County Council said has since corrected the problem and both signs now read 30mph - the correct limit.
'Too fast'
One village resident, who did not give their name, said it was "very confusing" while another said it was a "joke".
Dave Brown, from the county council, said: "We take road safety very seriously in Rutland and we sent someone out straightaway to fix the problem."