Twycross Zoo annual census boasts rare ape birth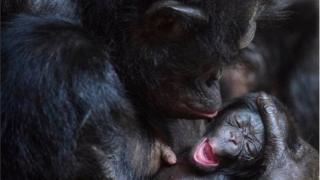 One of only seven bonobos born in Europe and two endangered black-headed spider monkeys are among the past year's 43 births at Twycross Zoo.
The male baby ape, named Ndeko, was born in August to 19-year-old Cheka at the zoo.
The spider monkeys were born at the Leicestershire site after 24 years of keeping the species.
A further 108 animals were transferred to the zoo for breeding programmes.
These included three male giraffes - Epesi, Setanta and Brad who now live in new premises which opened in April.
Staff are beginning their annual census to check on the progress of their conservation work.
Dr Charlotte Macdonald, director of life sciences at the zoo, said: "Precise knowledge of our animals is essential for us to arrange transfers and maintain healthy breeding populations."
She said bonobo captive breeding programmes were tricky because of the apes' "promiscuous" nature but Twycross is the only UK zoo that has successfully bred them.
The apes, which share 98% of their DNA with humans, are endangered, according to the International Union for Conservation of Nature.
In addition to the arrivals at the zoo, 79 animals left, including Sayan, the last of the snow leopards born at Twycross in 2013, to go on to live in social groups in other zoos and, in many cases, "to start their own families".
There are 163 species currently kept at the zoo, which announced a £55m masterplan to develop the site further over the next 20 years., in March.