OBE for helping end Ebola outbreak in Sierra Leone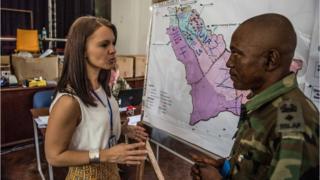 A woman who helped bring the Ebola outbreak in Sierra Leone to an end has been appointed OBE in the New Year Honours list.
Victoria Parkinson's work has "saved countless lives" according to a director from the country's National Ebola Response Centre.
The 33-year-old, from Leicester, had worked in Sierra Leone since July 2013 with the Africa Governance Initiative.
She originally expected to work on improving the business environment.
'Not a humanitarian worker'
However, her role changed when Ebola began to spread through the country in 2014, and she was asked if she could help co-ordinate a response.
"I'm not a humanitarian worker at all but what they needed at the time were people who could respond really quickly in an emergency," she said.
"To stop transmission [of Ebola] you need to get the sick into hospital beds and you need to get the dead buried as people are infectious.
"So what I did was make sure that we had set up a command centre that meant that people were responded to quickly."
Ebola deaths
Figures up to 13 January 2016
11,315
Deaths - probable, confirmed and suspected
(Includes one in the US and six in Mali)
4,809 Liberia

3,955 Sierra Leone

2,536 Guinea

8 Nigeria
Getty
Ms Parkinson said she never expected an award, and it felt "very surprising" to have been singled out.
Her work has previously been recognised with an Ebola Medal for Service in West Africa.
She has now been appointed OBE for services to the Ebola response in Sierra Leone.
OB Sisay, director of the Situation Room at the National Ebola Response Centre, said: "In the dark days, when Freetown was sinking, bodies in the streets, hospitals piled high with live and dead, Victoria stayed and pushed on, working with us to build a command centre for Freetown that enabled us to take control of the outbreak.
"Victoria's work has saved countless lives in Sierra Leone."