Demolition starts on fire-hit Leicester factory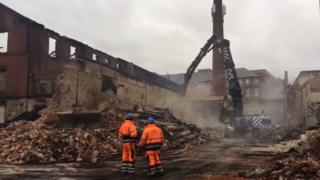 Demolition work has started at a factory destroyed by a "massive" fire.
The blaze, which broke out at the plastics factory in Belgrave, Leicester on Monday afternoon, was described by emergency services as "one of the biggest" seen in the city.
About 140 people were evacuated from nearby houses and some have still been unable to return.
Fire investigators said they believed the blaze was caused by an electrical fault in one of the units.
The demolition team told the BBC it would be a "long and complicated" process and could take a few days because firefighters were still working to put out pockets of fire.
Several roads around the factory remain closed.
Updates on this story and more from Leicestershire
On Monday, dozens of firefighters were drafted in from across the region to tackle the fire, and smoke could be seen from Bradgate Park five miles (8km) away.
Crews said they found the blaze hard to fight because of its proximity to terraced housing and they struggled to get access to the building due to fears it might collapse.
Michael Lewis, trustee of a boxing academy, said they were concerned about their building but had been told it was "sound".
Salim Varu, who runs a clothing factory nearby, said he was not in Leicester at the time of the fire but returned when he heard what had happened.
He said he was still waiting to be allowed in to assess the damage, but had been told it was not yet safe.