Kayleigh Haywood: Peace Light to be carried from Bethlehem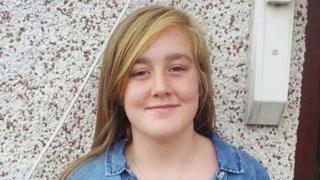 A light lit from a flame at what is believed to be the birthplace of Jesus is being brought to Leicestershire in memory of teenager Kayleigh Haywood.
Kayleigh, 15, was found dead last month and a 28-year-old man has been charged with her rape and murder.
The flame is known as the Peace Light and is carried from Bethlehem to locations around the world in a tradition begun in 1986.
It will be received at St Laurence Church in Measham on 15 December.
Updates on this story and more from Leicestershire
Rev Linda Cox said Kayleigh's family were honoured to be offered the flame as a sign of hope and comfort.
"I think they were pretty staggered by the fact that they were offered this light but they found it hugely comforting to know that people around the country are thinking about them," she said.
Kayleigh lived in Measham and a vigil attended by her family was held at the church after her body was found.
There will be a short service at 18:00 GMT on the day the Peace Light is received, and it will remain alight throughout the Christmas season.