Record 1,254 Christmas trees at festival in Melton Mowbray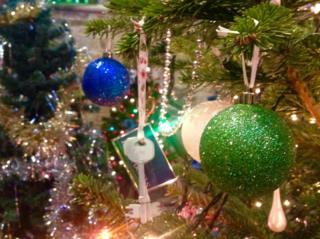 A Christmas tree festival thought to be the largest in England has broken its own record by having 1,254 trees.
Organisers of the festival at St Mary's Church in Melton Mowbray aimed to beat last year's total of 916 trees.
People from all over the UK come to see the trees, which are created by schools, charities, community groups, businesses and individuals.
The Rev Kevin Ashby got into the spirit of the festival this year by dressing as a Christmas tree.
Many churches hold similar Christmas tree festivals as a way of attracting visitors and also raising money for charity.
The festival at St Mary's Church began on Friday and is due to end on Tuesday.
St Mary's was holding two carol singing services as part of the festival programme, on Saturday and Sunday evenings.
The tree festival also coincides with Melton's Victorian Christmas weekend in the town centre.