Leicester black cab drivers stage a 'go slow' protest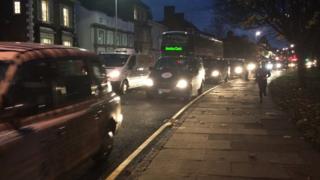 Black cab drivers in Leicester have been holding a "go slow" protest, in a row over a penalty points system.
The guidelines, which came into effect earlier this week, could see drivers lose their licences for poor conduct.
The RMT union said it believed the scheme was the first of its kind in the UK.
City mayor Sir Peter Soulsby said he had already made concessions to deal with the drivers' concerns.
Two other "go slow" drives have already been staged in the city.
'Bad idea'
Last week Steve Hedley, of the RMT, urged Sir Peter to agree to further talks on the issue and has continued to emphasise the industrial action had been undertaken as a "last resort".
"What we can't accept is people getting three points on their licence for things like if they forget their name badge," he said.
"The vast majority of people we've spoken to about this have said it's a really bad idea".
---
How will the penalty points system work?
Drivers can be given the maximum five penalty points for offences including "refusal to accept hiring without reasonable cause" and "failure to use taxi metre for journeys within prescribed distance"
Three penalty points are given if there is "failure to wear driver's badge"
If drivers get 12 penalty points across a two-year period, they will be asked to appear before the council's licensing committee and could have their licence revoked
The measures came into effect on Tuesday for a 12-month trial period
Drivers are being issued with warnings rather than penalty points during the first two weeks of the trial
Source: Leicester City Council
---
Sir Peter said he would review certain privileges for Hackney cab drivers if they continued to protest.
"They have the opportunity to pick up on street, they're given street space where they can have ranks, they're allowed to go in the bus lanes and they have their numbers, quite artificially, limited" he said.
"Those privileges are inevitably ones they are putting at risk if they persist".