Leicester castle's secrets shared by phone app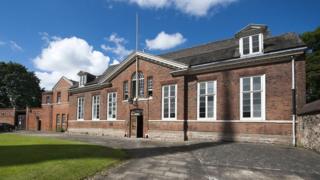 A smartphone app has been developed to help visitors get more from one of Leicester's most historic sites.
During open days this bank holiday weekend, people can download for free the programme which tells them more about the past of city's castle.
Responding to markers around the site, it will describe its time as a royal fortress for Richard III and famous trials when a law court.
Testing showed visitors spent 80% more time in the castle when using the app.
Sometimes overlooked as much of the structure was lost after the Civil War, the castle dates back to the 11th Century.
'Heartbreaking'
Sally Coleman, heritage manager at Leicester City Council, said: "It's got medieval origins, two Victorian courtrooms here, connections to a range of different kings, Edward I and II, Henry IV, Richard III all came here - but people don't really understand the history by walking in and looking around.
"As they walk around, Bluetooth signals trigger information on their phone or table and they can have audio presentations, dramatic presentations, they can see pictures.
"It gives them a whole new layer of information and of course it's free.
"It was heartbreaking to see people come in to such a wonderful heritage building, spend 10 minutes and walk out again."
As well as being used for councils by kings, the courts hosted trails which made lurid headlines, including the Green Bicycle Murder.
Alongside this, DeMontfort University has produced the first model of Church of Annunciation, the building where Richard III's body was put on display.
No contemporary images of the church exist, and the model will be placed near the two surviving arches from the building, which are preserved within the campus.