Snibston Discovery Museum closes despite campaign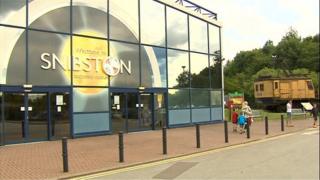 A museum in Leicestershire has opened for the last time in its current form despite a long campaign to save it.
Snibston Discovery Museum, near Coalville, is being downsized as part of a wide-ranging savings plan by the county council.
Last week, the High Court rejected a challenge against that decision. Some 40 staff are being redeployed.
The centre proved so busy on its final day that last admission was at 14:00 BST.
The museum opened 22 years ago and features activities based around science and industry, as well as the area's mining heritage.
The council announced the closure of the attraction in 2013 to help meet its savings target of £86m by 2019.
It said reducing the size of Snibston could save £9.4m over 25 years.
Terry Howatt, part of the committee that bought the site from the Coal Board for £1, said he was "devastated" by the decision.
"We thought it was a good idea to have a museum there because it is all part of the social history of Coalville," he said.
"The Coal Board just wanted to get rid of the site and we spent £4m refurbishing it with items from mining and other industries in that area."
Campaigner Frank Robinson will join other supporters in a gathering outside the venue as a "final show of support".
He said: "We want to make people aware of what we are about to lose and we feel that Leicestershire County Council have acted in a disgusting manner and showed utter contempt for the people of Coalville.
"This is a valuable asset and it is just shocking. We have nothing left here now."
A council spokeswoman said the museum collections would "continue to be cared for by its professional museum staff" and would be displayed "in a variety of ways".
The Century Theatre and country park will stay open.