Lord Janner: No 'cover-up' in decision not to arrest him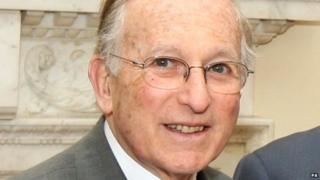 The senior police officer most likely to have taken the decision not to arrest Lord Janner on charges of child abuse in 1991 says there was "no cover-up".
Tony Butler said that the law in 1991 would not have allowed police to have taken him into custody.
He said there was no risk of the then MP fleeing, offending, destroying evidence or failing to co-operate.
Lord Janner strongly denied the allegations in Parliament in 1991.
His family has more recently insisted that he is "entirely innocent".
The Director of Public Prosecutions, Alison Saunders, has criticised the failure to charge Lord Janner 24 years ago.
Although he will now be prosecuted, he is suffering from dementia, and it is likely a jury will never be able to properly consider the case against him.
The former MP for Leicester West will be prosecuted over claims of historical child sexual abuse after a review overturned a decision by the Crown Prosecution Service.
Prosecutors announced in April that the 86-year-old Labour peer would not be charged because of his severe form of dementia.
But an independent QC has now recommended that the decision should be overruled.
The allegations first surfaced during the trial of Frank Beck, a notorious children's home manager who was convicted of multiple offences of abusing children. He alleged in court that Mr Janner had been involved with a boy during the 1970s.
When police met the alleged victim, by then in his 30s, he claimed he had been abused by the MP in Leicester, London and Scotland.
The MP was invited to be interviewed by police in March 1991, without being arrested, and he refused to answer questions.
Following other inquiries the investigation file was sent to the Crown Prosecution Service in 1991 - it decided there was "insufficient evidence" for Lord Janner to be charged.
The two senior officers at Leicestershire Police during this period were the Chief Constable Michael Hirst, who is dead, and Tony Butler, the former Assistant Chief Constable.
'Not leaned on'
Mr Butler said he had checked his own files and now accepted it was more likely he made the decision not to carry out an arrest. He was the senior officer overseeing the investigation into Frank Beck at the time.
However, Mr Butler insisted he would have needed to have legal justification to make an arrest, "and from what I can recall of the evidence, and from looking at papers now, I don't see there was a justification to arrest Greville Janner."
"But it certainly wasn't a cover-up. I was certainly not leaned on not to arrest him, and there was no influence brought to bear from outside the force that influenced that decision."
Mr Butler said the powers to arrest a suspect were set out in Code G of the Police and Criminal Evidence Act. This allows an arrest if there is sufficient evidence of guilt, and police believe it is "necessary".
Under the code this might be the case if it was likely the suspect would "injure himself or another person", "steal or destroy evidence", "collude or make contact with co-suspects", or threaten witnesses. It would also be necessary to carry out a search without a warrant.
Kelvyn Ashby, the officer who ran the investigation, said he was not "warned off" investigating Lord Janner but was told not to arrest him.
"We investigated the case as best we could. The only decision that was taken out of our hands was the arrest issue.
"I would have preferred to arrest him because I felt we had enough evidence, but the powers that be just said that wouldn't be the case, this man's an MP, we've got to think of his character and his reputation."
But Tony Butler questioned how an arrest would have "improved the quality of the evidence". A search of Lord Janner's house, without an arrest, would have been possible by getting a warrant from a magistrates court, but he felt it was not likely the MP would have kept incriminating items at his home.
'Quite slim'
Mr Butler later became the most senior policeman in England and Wales overseeing the investigation of child abuse. In his BBC interview he described the evidence against Lord Janner in 1991 as "quite slim", especially given the prevailing legal culture.
The Independent Police Complaints Commission is investigating whether Leicestershire's inquiries into Lord Janner in 1991, 2002 and 2006-7 were adequate.
The 2002 investigation was never passed to the Crown Prosecution Service.
DPP Alison Saunders said that "as far as the victims are concerned I deeply regret - and have said this in a letter to them already - the fact we did not choose to prosecute in 1991 and 2007".
"I think that was the wrong decision then and we should have done so and I deeply regret that. I'm sorry if they've had any further upset due to the time it has now taken."