Interserve told to end Leicester hospitals cleaning and catering merger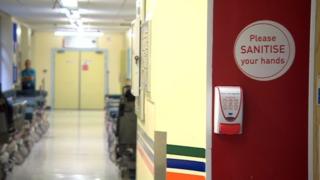 A private firm which manages Leicester's hospitals has been told to stop combining cleaning and catering duties.
The University Hospitals of Leicester NHS Trust said it had noted a decline in cleaning standards since Interserve, which is responsible for the services, began the scheme.
It said it was "very concerned" and ordered a return to previous processes.
Interserve said it was meeting the trust's "key performance indicators".
The firm won a contract to manage services at the city's three hospitals in 2012.
'Blood stains'
Health campaigner Zuffar Haq said since the new scheme was rolled out, cleaners would "change their apron" at lunch time and serve meals to patients.
"A lot of bins weren't being emptied quick enough, blood stains on the corridors that weren't being cleaned effectively."
The trust has ordered Interserve to return to its previous practice because "cleaning standards have declined".
Darryn Kerr, director of facilities at the hospitals, said: "We have instructed Interserve to stop any further roll out of the new regime and to reinstate the previous cleaning processes to ensure that standards are met.
"If this does not result in improvements we will use the full force of the contract with Interserve to ensure that our hospitals are cleaned to the correct standard."
In a statement, Interserve said: "Our focus is on providing a clean and safe environment within the hospital, and key performance indicators demonstrate we are meeting the trust's requirements.
"We are continuing with our plans to transform staffing to improve efficiency - and ensure services are in line with hospital productivity levels elsewhere."