Unknown Leicestershire WW2 airman is identified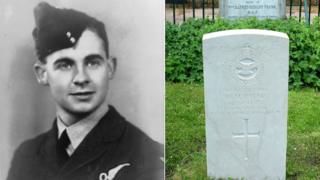 The identity of a World War Two airman has been revealed 75 years after his death.
Sgt Donald Payne's body was washed up on the Essex coast in September 1940 after he was forced to ditch his plane.
It was initially thought he was a different Sgt Payne, and his grave at Quorn Baptist Church, Leicestershire, bore the wrong name for three decades.
But research by a local historian has revealed the true identity of the "unknown airman".
After the plane came down in the English Channel in September 1940, a body was identified as missing Sgt Alfred Payne.
But the real Alfred, who had been reported missing the previous May during the Battle of Britain, was later found dead in northern France.
Subsequently, the headstone in the churchyard at Quorn was replaced in the 1970s for one which read "unknown airman".
But research by Alfred's distant relative Michael Speight has revealed the body was 19-year-old Donald Payne.
Seven years ago while writing a book on local history, Mr Speight came across the story of the unidentified RAF man and discovered he was distantly related to Alfred.
"I got lots of books out of the library, I went on internet forums and eventually tracked it down to a plane that was reported missing in September and one of the crew was a Sgt Payne," he said.
"It's unfortunate that he was 19 years old and his parents would never discover the whereabouts of his body. It's very, very sad."
Mr Speight has now had the identity confirmed by the War Graves Commission and Donald Payne, who was from Surrey, will have his grave rededicated at a ceremony later this month.
He has traced Donald's distant relatives in the UK and abroad and now plans to visit Alfred's grave to lay a wreath as he believes no one from the family has ever visited.