Parents call for baby ashes legislation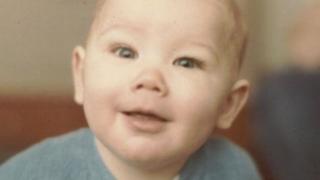 A couple whose baby's ashes were not returned after his death are calling for new legislation to give other grieving parents more choice.
Patricia Jones' son Nicky was cremated at Gilrose Crematorium in Leicester in May 1980.
The family were told there would be no ashes because his bones were too fragile, but they were not asked if they would prefer a burial.
It follows a report into similar cases in Shrewsbury between 1996 and 2012.
Mrs Jones told the BBC: "Everybody takes it for granted that you're either buried or cremated and there will be a place to go to afterwards, but we had nothing.
"We opted for cremation but nobody said 'because there'll be no ashes, would you prefer a burial?'," she said.
"I think the policy should be changed nationally, and every family this happens to should be given the ashes back."
She added: "We were distraught and that's the time the experts need to come in and put your options on the table.
"They need to tell you the outcome from each available option."
Leicester City Council said that, like other authorities, it was unable to recover ashes of babies and very young children at the time of Nicky's cremation.
The authority said it started being able to recover ashes more effectively in the mid-1980s, and with modern equipment was now able to recover even the tiniest quantity of remains.
A report commissioned by Shropshire Council found about 60 families were believed to have been affected by failures at Shrewsbury's Emstrey crematorium between 1996 and 2012.
The inquiry concluded a national inspector should be created for crematoriums.
David Jenkins, who led the independent inquiry, said he had been "struck by the absence of authoritative national guidance".
He recommended the government appoint an independent inspector to oversee standards across England.
Emstrey crematorium has returned ashes from all infant cremations since January 2013, after new equipment was installed and different cremation techniques were adopted.
Sands, a national charity that supports those affected by the death of a baby, is campaigning for all parents to be given the option to receive their babies' ashes.