Blaby care home complex angers neighbours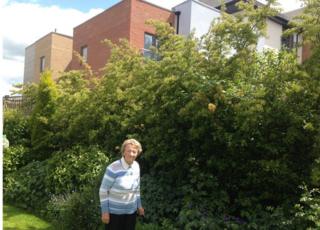 A new £7.8m care development in Leicestershire is causing neighbours concerns over flooding and blocking out sunshine.
The three-storey Oaks Court development was given planning permission by Blaby District Council in 2014
Local estate agents have said neighbouring properties have decreased in value.
The council has said it is actively investigating the residents' complaints.
Alma Partridge, whose garden backs on to the development, comprising bungalows and 50 flats, said the building has caused her garden to flood.
She said she could not believe the plan was passed despite being so close to existing properties and feels "shattered" by it.
Pensioner Ruth Corby said she had to put a new window in her lounge because so much light had been lost after the development was built 30ft (9m) from her bungalow.
"It really is too high, too bulky and in the wrong place," she said.
Local estate agents told the BBC her property has been devalued by several thousand pounds.
Despite complaints and a visit by council staff in October, Blaby District Council officers have not returned to monitor the situation, the neighbours said.
"We were unaware this was still an issue and as a result we are now actively investigating the complaint," a spokesman said.
Westleigh has not responded to requests for a comment.