Leicester Tigers begin work on 'biggest' rugby stadium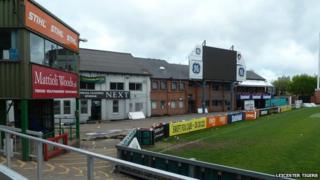 Work has begun on a new stand at Leicester Tigers' stadium.
Temporary seating and a number of buildings are being cleared for a new 3,100 seat stand at the Tigers' Welford Road home.
The club has said this will take capacity to more than 26,000 - the highest for any club rugby-only stadium.
Officials said missing out on hosting games at this autumn's World Cup meant they had time to improve the ground.
The clubhouse, built in 1909, will be demolished along with a "hotch-potch" of other two-storey buildings and turnstiles.
Road disruption
Head of Brand at the Tigers, Chris Rose, said: "We have a record season tickets for three years and we just need more space.
"We are really happy the Rugby World Cup is in the city at the football ground but here it has given us the opportunity to redevelop the ground with minimum disruption."
Work on seating is due to be completed by the end of October with new offices and lounges installed by January 2016.
The club has said there will be some disruption to nearby roads.