Great Central Railway train ran unmanned for more than a mile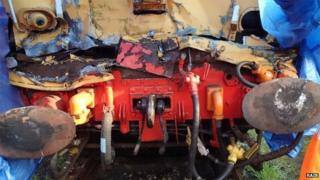 An unmanned train ran for more than a mile before crashing into coaches on a heritage railway in Leicestershire, rail accident investigators have said.
The report said no one was injured but damage was sustained by the vehicles during the collision on the Great Central Railway, in Quorn, in May 2014.
The engine's handbrakes were not applied and the coach was not secured with brakes, the investigation found.
The Great Central Railway (GCR) said it had since reinforced its procedures.
The Rail Accident Investigation Branch (RAIB) report said the train - a locomotive and one coach - ran for about 1.8 miles (2.9 km) before crashing into a set of unattended coaches, near Loughborough Central station, on 12 May 2014.
The report concluded the train, which was left unattended, ran away because the wheel scotch, a type of prop, was positioned against the locomotive's wheel in a way that made it "ineffective".
'Reinforced procedures'
It also said the driver did not apply the vehicle's handbrakes because he believed they were not effective on this class of locomotive and the wheel scotch would provide sufficient braking force.
The RAIB has issued a number of recommendations to the GCR to prevent further incidents.
Dr Eric Smith, safety director at GCR, said no one had been in any danger when the accident occurred.
He said: "We have to be seen to act on a such a report and I'd like to say we've acted very positively in this respect.
"We have reinforced a number of procedures in readiness for what the RAIB said."
On Wednesday, the GCR, which runs through Leicestershire and Nottinghamshire, was awarded £10m in lottery funding to create a new heritage railway museum in Leicester.