Lord Janner's House of Lords voting record questioned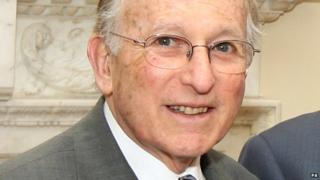 Claims Lord Janner voted 200 times in the House of Lords despite granting power of attorney to his children show he is fit to stand trial, a leading child abuse lawyer has said.
The CPS deemed the 86-year-old Labour peer unfit to be tried over child sex abuse allegations last month due to the severity of his dementia.
Records show he voted 203 times between May 2009 and November 2013.
Exaro news agency reported he granted power of attorney in April 2009.
Association of Child Abuse Lawyers president Peter Garsden, who is representing six alleged victims, said there appeared to be a "conflict of evidence".
The dates of the votes suggest Lord Janner has the capacity to vote in the House of Lords and is fit to stand trial, or he was attending the house when he should not have.
"The two different scenarios don't appear to agree with each other, hence there seems to be a conflict of evidence," said Mr Garsden.
Raided
Greville Janner, who was made a life peer in 1997, has been linked with a string of historic child sex abuse allegations during the 1960s, 1970s and 1980s.
The former Leicester MP granted power of attorney to his family in April 2009, according to reports.
His last vote was in November 2013, shortly before his north London home was raided by police.
He signed a further power of attorney to cover his property and financial affairs in November 2011, Exaro said.
Director of Public Prosecutions Allison Saunders said, despite evidence to charge the former Leicester MP, he was unfit for trial because of his dementia.
Leicestershire Police, which interviewed more than 2,000 people during its investigation, called the decision "wrong" and "regrettable".
More than a dozen individuals have made allegations relating to Lord Janner, the CPS said.
The peer, who has been suspended by the Labour Party, "is entirely innocent of any wrongdoing", his family has said.
His solicitor, Jae Carwardine, a partner at Russell Cooke, was unavailable for comment.