Rutland Water: Osprey hide tribute for birdwatcher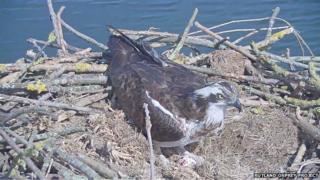 A bird hide used to watch rare ospreys has been improved following a £5,000 donation from a trust set up in memory of a man who died last year.
Martin Lawrence was a regular visitor to Rutland Water Nature Reserve before his death from Motor Neurone Disease.
The money will go towards educating children and buying new cameras for the refurbished bird viewing building.
The reserve is expecting its busiest weekend after a female osprey laid her first egg of the season, on Wednesday.
Rutland Water is home to the first ospreys to breed in England for 150 years, with 87 young birds fledging from the site since 2001.
Tricia Lawrence, who set up the Martin Lawrence Memorial Trust in memory of her husband, said he visited the reserve on a daily basis.
She said: "My fellow trustees were unanimous in deciding to support the Rutland Osprey Project so children both here in the UK and Africa can follow the ospreys' journey and increase their knowledge of birds and the natural world."
The Leicestershire and Rutland Wildlife Trust, which runs the project with Anglian Water, said it was incredibly grateful for the cash.
Tim Mackrill from the trust said the money had been used to install new high definition cameras on the Manton Bay Osprey nest.
The images have been streamed live on to the project's website and also to a screen in the hide.
The rest of the money will go towards producing a children's book about the birds of prey.
Rutland ospreys
The project restored a breeding population of ospreys in central England for the first time in 150 years
Since 2001, 87 of the birds have fledged from nests in the Rutland Water area
Ospreys breed in Rutland and then spend the winter in west Africa
Some of the birds have been tracked using satellites, charting their 3,000-mile (4,800km) journey
An adult osprey weighs about 3.3lbs (1.5kg) and has a wingspan of about 5ft 7ins (1.7m)
Source: The Rutland Osprey Project