Richard III's tomb draws thousands to Leicester Cathedral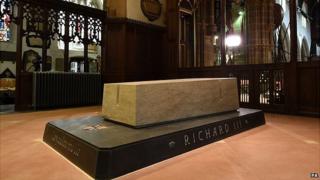 Thousands of people have continued to file through Leicester Cathedral to catch a glimpse of Richard III's tomb.
At a reinterment service last month, the former king's remains were sealed in a vault and a two-tonne stone memorial was moved into place.
During the celebration week over 20,000 people were drawn to the cathedral with about 2,500 visiting every day since.
The last Plantagenet king died at the Battle of Bosworth in 1485 and was discovered under a car park in 2012.
The eyes of the world have been on Leicester since archaeologists confirmed in 2013 that the remains they had uncovered were those of the king.
In the build-up to his reburial, 35,000 people lined the city's streets to wave farewell to his cortege before queues formed around the cathedral to view his coffin.
Since the tomb was unveiled, crowds have continued to flock to see the two-tonne block of pale Swaledale fossil limestone.
Andrew Ingles, who helped co-ordinate volunteers, said: "We've been trying [to count the number of visitors] but it has been so busy at times it has been difficult.
"This week we've had about 2,500 every day - that's an awful lot more than we are normally used to."
Canon Barry Naylor, sub dean of Leicester Cathedral, said more worshippers have also been going to services.
"I think there will be a new normality," he said. "I don't think it will ever go back to what it was before and that's a good thing."