Lord Janner: Inquiry into 'limited' child abuse investigation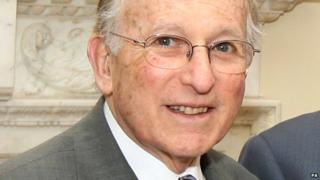 Further inquiries are to be carried out into whether detectives were told to limit a child abuse investigation centred on the former MP Lord Janner.
A home belonging to the 86-year-old peer, who was a Labour MP in Leicester for 27 years, was searched in 2013.
Last year it was reported that in 1989 a detective sergeant was told not to arrest Mr Janner or search his home.
The Independent Police Complaints Commission has said more investigation is needed into the claims.
Leicestershire Police said internal inquiries had been made before the matter was referred to the commission.
A force spokeswoman said: "The IPCC has since advised that the matter should receive local police investigation and further inquiries are now being undertaken by the force."
A file relating to the investigation of Lord Janner is being considered by the Crown Prosecution Service.
Greville Janner, who was Labour MP for Leicester North West and then Leicester West, has not been arrested.
Detectives executed a search warrant at a property in Barnet, north London, in December 2013.