King Richard III church arches restored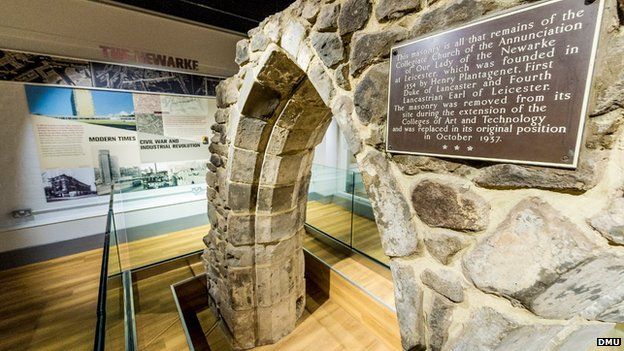 The remains of a medieval church where the corpse of Richard III was laid forms part of a new heritage centre.
The King's battle-scarred body was put on public display at the Church of the Annunciation in Leicester following his death at Bosworth in 1485.
The church's two remaining Hawthorn Arches are now the main feature of the centre at De Montfort University.
University archivist Katherine Short said it was great to see the arches restored.
The centre, which opens later, will be free to visit and was designed by students at the university.
It includes a history of the university, which first opened as the Leicester School of Art in 1870.
The centrepiece, the church arches, were unearthed in 1935 when an extension was built for a university building and have remained in the basement ever since.
Drawings by the university's research teams will also be on display showing reconstructions of what the church might have looked like in 1485.
"It was quite a rich church and quite important for Leicester at the time because it was such a religious society," said Ms Short.
"And because it was connected to royalty quite a few important local people were patrons of the church."
The centre will open from Tuesday to Thursday between 10:00 and 15:00 GMT.
The Church of the Annunciation of the Blessed Virgin Mary
The church was built about 1353 at the request of Henry, the 4th Earl of Leicester and also of Lancaster, as a private chapel for the Lancaster family
It was demolished in the mid-1500s during the English reformation
The chantry chapel gained national importance after a number of high status Lancastrian burials
The church became a place of pilgrimage after the King of France gave Henry a thorn claimed to be from the Crown of Thorns (worn by Jesus at the Crucifixion). This holy relic was placed on the high altar on a gold stand
Related Internet Links
The BBC is not responsible for the content of external sites.