Leicester children's services 'fell apart' under review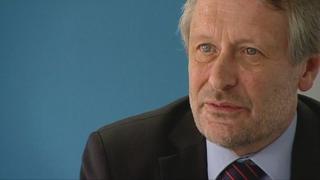 A former children's services boss has been sacked after a "botched review" caused the department to "fall apart".
Vulnerable youngsters in Leicester were left at risk after half its front line children's social workers quit during the review, the city's mayor said.
Sir Peter Soulsby said there was a "complete failure" to inform the council's leaders about the crisis.
Former head of department Elaine McHale has been dismissed, while assistant mayor Vi Dempster has stood down.
Ms Dempster was the councillor with overall responsibility for the department.
'Cannot be tolerated'
Staff departures in the wake of the review caused "serious delays" in allocating up to 300 child care cases, Sir Peter said.
An Ofsted report, due to be published next week, outlines serious failings over several months last year, the council said.
During the autumn, it showed, social workers were not allocated to vulnerable children because more than 30 had left the authority during the review.
Sir Peter said a new director and assistant director of children's services were appointed in October and brought in extra staff but some failings still needed to be addressed.
'Inadequate leadership'
"Fortunately we were able to very swiftly deal with the most serious issues we uncovered, and under the leadership of the new director the service is already improving," he said.
"However, a botched review and inadequate leadership have resulted in a situation where children have potentially been put at risk and this cannot be tolerated."
In a statement the council said since October it has:
Improved the way information is shared with managers, senior leaders and elected members
Increased ongoing recruitment of social workers
Started a training programme for middle managers
Recruited additional expertise
Former director of children's services Ms McHale was appointed director of adult social care last year but has now been sacked over the handling of the review.
Sir Peter said he has taken on "personal responsibility" after Ms Dempster was removed from the executive. Deputy city mayor Rory Palmer has taken on some of the mayor's other responsibilities.