Leicester textile workers paid £3 an hour, study finds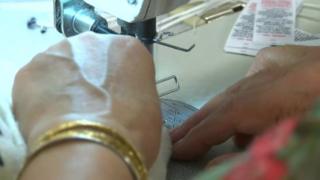 Thousands of people working in Leicester's textile industry are paid less than half the minimum wage, a study has found.
The city is the largest garment manufacturer in the UK but a report by the University of Leicester concluded standard workers earn just £3 an hour.
The national minimum wage for over-21s is £6.50.
The Ethical Trading Initiative (ETI), which commissioned the report, said the situation was "deeply disturbing".
The six-month study, which relied on interviews and survey data, concluded that only about 20% of the 3,000, mostly female workers took home the National Minimum Wage.
A worker's story
The report found several instances where workers were paid the same hourly rate they would get in their country of origin, rather than the UK minimum wage
One worker interviewed by the university had previously worked at a factory in Gujarat earning 3,000 rupees a month
They said they were enticed with an offer of 3,000 rupees a week - approximately £30
The University of Leicester's report
Report author Dr Nik Hammer said the majority of workers were paid £3 an hour.
"There are a number of other issues with working conditions, people are paid cash in hand, and there's verbal abuse on the factory floor," he said.
"This was a quite shocking discovery."
Dr Hammer's research concluded the majority of people working in the industry had a poor grasp of English, making them more vulnerable to abuse.
He added that the low wages paid by some gave them an unfair advantage over companies that paid the minimum wage, affecting the sector's long-term sustainability.
But his report also revealed the sector is growing after decades of decline, with its value increasing by 14% in the East Midlands between 2008 and 2012. Nationally it grew by 13% over the same period.
Debbie Coulter from the ETI said it was "hard to accept" such practices existed in a major city in 2015.
The ETI said it plans to work with a number of agencies to make the industry more professional by introducing proper management, human resource departments and unionising the work force.