Rutland Water Nature Reserve appeal for new centre funds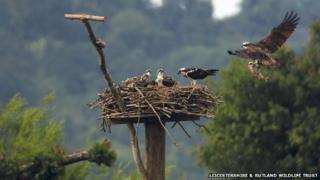 A wildlife trust has appealed to the public to help fund a shortfall for a new £1.1m volunteer training centre at Rutland Water Nature Reserve.
The new facilities would support over 350 volunteers who work at the site and other parks nearby.
Leicestershire and Rutland Wildlife Trust said it needed about £120,000 to complete the work by the summer.
The nature reserve, which opened in 1976, has seen the first ospreys to breed in England for 150 years.
The trust started work on the volunteer centre using money from the Heritage Lottery Fund and Anglian Water but cannot finish the building due to the funding gap.
Simon Bentley, the trust's director, said: "The centre has been in development for four years and we couldn't wait any longer, we just had to gulp and jump.
"We can't quite finish it.
"The outside would look good but there's work to do inside."
Mr Bentley wants the centre, where volunteers would learn how to protect wildlife, to be in operation by May or June.
He said: "[Rutland Water] is all about volunteers, they help in all aspects of the work at the reserve and that's why we need the centre."
The appeal for £170,000 began in September and so far wildlife trust members and the public have raised about £46,000.
The Rutland Water Osprey Project, established in the 1990s, was the first of its kind in Europe, with about 80 chicks hatching over 13 years.
The Trust said the success of the scheme was down to the work of staff and volunteers at the site.